279
on
July 11, 2018
at
10:41 pm
Can you believe this is the first time Carl's ever really said the name 'Gene' in this comic?
Also, can you believe that Cans of Beans is nominated for Best Webcomic in the 2018 Prism Awards?!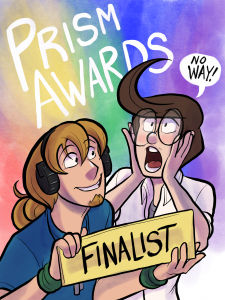 If you're attending SDCC '18, be sure to watch the awards ceremony on Saturday July 21st in Room 29AB! Unfortunately I'm not attending SDCC this year, but if you're there and wanna throw your support for CoB and/or any of your other favorite nominated LGBT comics, I highly encourage it!! Either way, thank you so much for your readership, whether you started reading from the very first update to readers just starting now. Love you all!! <3 <3 <3
Be two pages ahead of schedule on Patreon! || Support me on Ko-Fi!